The COVID-19 pandemic has caused death and destruction of people's lives around the world and continues to. The pandemic has created a lot of data that will require a lot of study to understand how better to deal with the situation going forwards.
A study into the hospital mortality rates by JAMA Network discovered deaths falling by a large margin between the months of April and November 2020 in US hospitals. This study is the most all-encompassing analysis so far of mortality rates and their changes during the pandemic.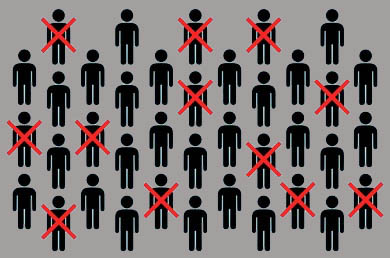 The study looked at data of a cohort of more than 20,000 patients with COVID-19 symptoms in US hospitals. The study looked at data accumulated over 9 months during the pandemic.
The overriding finding of the study shows that death rates in US hospitals decreased from their high of just under 20% in April 2020, to 9.3% in the month of November.
COVID-19 Complicating Other Treatments
The cause for this drop in mortality could be improved treatments and understanding of patients' conditions. The study also found that COVID-19 complicated patients treatments for other conditions, finding that some 15% of COVID patients died following surgery. This is in contrast to 7% of non-COVID patients dying following surgery in the same period.
Details of over half a million patients were looked at by researchers, who were hospitalized for at least a day between March and November 2020. Of those patients, 8.5% had COVID 19. Between those dates, those COVID patients admitted to hospital had a mortality rate of 11%, compared to 2.5% of patients without COVID.
This increase in mortality for patients with COVID was more marked with elderly patients over the age of 75. In that category, 20.9% of patients died when compared to 4.5% without COVID.
Slightly more than half of the patients in the overall sample, 50.7%, were men. And men had a higher mortality rate of 12.5% compared to women who suffered a 9.6% mortality rate for COVID positive patients.
Records from the Cardiovascular Disease Register show that mortality rates were 19% in March and April. Dropping to 11.9% in May and then 11% in July and August. There was a slight further decrease from September to November. Almost a third of patients had to be admitted into intensive care, and a fifth needed mechanical ventilation.
The overall mortality rate in hospitals rose between March and April going from 10.6% and ending up at 19.7%. Though by the time we reach November, mortality had dropped to 9.3%. This shows that the overall mortality rate was cut in half from the highs of April for all age groups.
Tracking Trends
The comparison between patients with COVID and without, is important to show that the trends observed in the study were directly related to COVID-19 or a general trend. The data reveals that for patients without COVID, their mortality rate remained roughly constant during the data period.
There were also changes in the cohort that was hospitalized in that period. Patients between the ages of 18 and 49 increased from the April total of 20.7% to 30.3% during June. This dropped slightly in July to 29.6%. However, this increase overtook patient numbers in the 50 to 64 age range during those months.
Further study is required to fully understand the reasons for the changes in numbers. This could help if there is a further uptick in COVID infections in the future.
The study was hoping to uncover the reason for the change in mortality rates. Hypothesizing that comorbidities, sex, and age, as well as the severity of illness suffered, would clearly show up in the data. However, this wasn't the case with only minor changes in these factors during the period. They found the age range dropped slightly, there was an increase in women patients, and body mass index levels also grew.
Conclusion
The conclusion suggests that the decline in mortality rates is likely more to do with overstretched hospitals and a better understanding of how to treat the infection. The increase in variants during the pandemic, means that these factors need to be better understood for clinicians to be able to serve their patients more successfully. However, further studies using this data and other sets need to continue as the pandemic rages in other parts of the world.