Public Health England reported that hospitalization for eating disorders in girls aged only 10 years increased by 146% from 2013/14 year, a total of 2,196 hospitalizations for eating disorders in children and young people aged 10 to 24 years in 2017 / 18.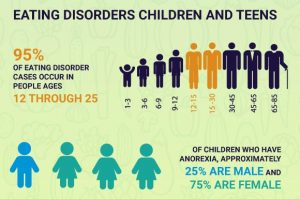 The report also indicates that the vast majority of them were 91 per cent, and 1,326 of them were girls between the ages of 13 and 17.
The report says that although bulimia is more common among children and young people, it is anorexia that causes a higher proportion of hospitalizations, which is of concern to leading drug treatment experts in the UKAT.
Experts such as Nuno Albuquerque, the head of the treatment group, warn that "social media and celebrity idolization are largely linked to growth," suggesting that eating disorders stem from body image problems, but there is also a "much deeper social problem with children experiencing a lack of affection on the part of parents."
Nuno also said that "unlike most other addictions and disorders, treatment cannot be based on abstinence because we need to eat to live. Instead, treatment is aimed at finding a balance in the relationship between man and food. For most, overcoming eating disorders that have arisen at such a young age is a continuous process, and for some it will be something they will live with – with controlled behavior extracted from treatment – forever."
Public Health England's report also raises concerns about the hospitalization of young boys, showing that in 2013/14 only one 10-year-old boy was hospitalized, but in 2017/18 there were nine and 14-year-old boys, 14 were admitted in 2013/14, which rose 178% to 39 in 2017/18.