The US Food and Drug Administration (FDA) announced the approval of the first treatment of episodic cluster headaches to reduce the frequency of attacks, Eli Lilly's Emgality (galcanezumab-gnlm).
This decision is based on a clinical study comparing the drug with placebo in 106 patients, and it was found that during the three-week period, patients taking Emgality had 8.7 fewer weekly headache attacks than at the beginning of the study, compared with 5.2 fewer seizures patients on a placebo.
"Emgality provides patients with the first drug approved by the FDA, which reduces the frequency of headaches episodic cluster, extremely painful and often debilitating condition," said Eric Bastings, Deputy Director of the division of neurologic drugs in the Center for evaluation of medicines the FDA. and research.
He also said that "the FDA is committed to continuing to work with drug developers to provide treatment for patients' unmet medical needs."
Once a month, the injection of monoclonal antibodies was approved by the European Commission for the preventive treatment of migraine in adults last November, just a month after the FDA also green-light drug for the treatment of migraine.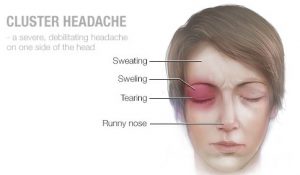 Cluster headache is a form of headache that causes severe pain and usually occurs in clusters, often at the same time of day, for several weeks or months. Headaches are accompanied by symptoms that may include: bloodshot eyes, excessive tearing from the eyes, drooping eyelids, runny or stuffy nose and sweating face.
The FDA also has granted this application Priority review and breakthrough therapy designation.