If you suffer from atopic dermatitis, there are many treatments available. These include topical treatments that do not require prescriptions, including antihistamines, hydrocortisone, skin cleansers, and moisturizers. Treating atopic dermatitis with over-the-counter products is usually enough for patients with mild to moderate conditions. But for severe cases, more serious medical intervention is required.
Atopic dermatitis is categorized as a chronic inflammatory dermatological issue that is common in children but also has many adult sufferers. Eczema is the most common type of atopic dermatitis, affecting nearly 10 million pediatric patients alone in the United States.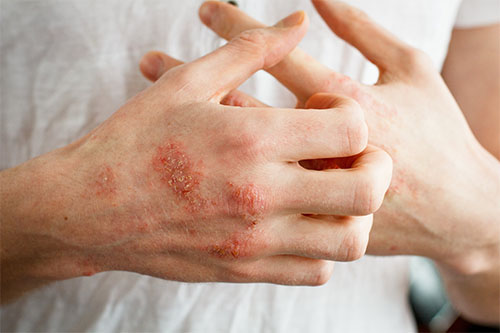 There are many causes of this condition. There can be environmental issues that cause flare-ups, or perhaps the patient is suffering from immunological dysfunctions. Many patients can also have an increased genetic predisposition to these types of conditions.
Though whatever the cause, a large number of sufferers are diagnosed in the first year of life, with as many as 85% of people experiencing symptoms before they are 5 years of age.
Many sufferers of atopic dermatitis experience itching every day. This can not only lead to pain but also reduced sleep.
New Studies
In a study published in The Lancet Child and Adolescent Health, 550 participants were used to study the efficacy of different types of treatments in children. The participants were assigned 1 of 4 treatments for eczema, these being:
■  Ointments
■  Creams
■  Gels
■  Lotions
Patient observations were recorded every week for 16 weeks, with follow-ups every four weeks for a year. The study found that there didn't appear to be any significant difference between the different treatment types, besides ointments not causing stinging as frequently.
In another study published by the Journal of Allergy and Clinical Immunology: In Practice, it was found there wasn't a significant link between food allergies and flare-ups. While many child sufferers of atopic dermatitis also have food allergies, it didn't make a difference in more than just a few percent of sufferers.
A further study in the journal of the American Academy of Dermatology found that sufferers of atopic dermatitis had an increased risk of dementia. On top of this, the increased severity of the issue correlated with a greater risk of also suffering from dementia. This study involved participants aged between 60 and 99 and found there was a 27% increased risk of dementia.
Coping with Atopic Dermatitis
If you suffer from this type of dermatitis, creating a good skincare routine can reduce the chance of flare-ups. It is important to make sure your skin is hydrated and healthy, and incorporate preventative measures that will reduce the likelihood of issues occurring.

To prevent atopic dermatitis, you should follow these tips:
■  Bathe or shower every day with lukewarm water
■  Moisturize after bathing or when your skin is dry
■  Avoid anything that has led to flare-ups previously
■  Eat healthily, get enough sleep, and avoid stress
■  Only choose fragrance-free skincare products and test them when first using
■  Use gentle detergents on your clothes, and loose-fitting cotton is best
As you can see, there are many things you can do to reduce the chances of flare-ups. Though if your symptoms do not improve or get worse, seek help from a dermatologist.