Cases of malaria-related deaths in the UK remain at the highest level since 2011, and although the latest data show that the number of diagnoses technically had declined to 1683 in 2018, experts are concerned about "minor" fall only 109 from 2017 – when the disease was at the worst in 15 years.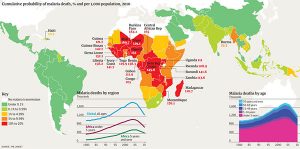 According to the NHS, the most dangerous destinations are in West Africa, and most cases end up in the UK after travelers return from family.
In an effort to combat growth, the antimalarial drug Maloff Protect was available over-the-counter, not just by prescription, as it used to be.
Since 2015, there have been six malaria deaths in the UK each year, below the average of 7.5% since 2000. Shamir Patel, lead pharmacist and director of Chemist-4-u.com, warned British holidaymakers not to travel abroad without proper vaccinations.
He also expressed concern that travelers do not take the risks seriously enough, as "the decrease of only 109 is quite small and does not reflect positive changes in the attitude to such a dangerous disease as malaria.
"In 2017, the UK imported 1,792 cases of malaria, the highest level since 2002. In the period from 2016 to 2017, the growth was more than 10%."
He continued: "Malaria is an incredibly serious disease, and in some cases even fatal. Over the past few years, medicine has become more accessible and accessible, but we have not seen as significant a reduction in cases as you might hope.
"Maloff Protect is available over-the-counter and is a simple and effective way to protect against malaria before you travel.
"Online consultations mean that people still have access to the help and guidance they expect from a pharmacy on the main street, but from the comfort of their own home.
"It is important that people are aware of the risks as well as how they can prevent mosquito bites." The initial symptoms of malaria include fever, sweating, chills, vomiting and headache, which usually appear between 7 and 18 days after infection.